One of the dramatic high points in Shakespeare's play Othello is when Othello, tormented by the idea that his beloved wife is having an affair with his second in command Cassio,  turns on Iago, the man who planted the thought in his head, and demands 'ocular proof'  that Desdemona is 'a whore'.  For the audience, this is a moment of high suspense; from the start we have been party to 'honest' Iago's villainous plan to use his position of trust with Othello against him, to destroy his happiness  and his career as a respected general of the Venetian state.   Within moments, Iago has turned Othello's anger to his own advantage, first adopting the pose of the wronged bearer of bad news who has learned his lesson not to be 'too honest' with his friend in future, and then blandly pointing out the 'tedious difficulty' of engineering a situation where Othello might 'grossly gape on' while Desdemona and Cassio have sex.   From this point in Act 3, Othello is unable to resist Iago's manipulations, and the play moves relentlessly to its tragic denouement.
Iago,  presented ironically from the opening of the play as 'honest', is Shakespeare's most chilling villain, and Othello is a masterclass in the art of manipulation.  For those interested in the psychology of learning, it is also a useful workshop on cognitive biases in action.  Before Iago has the chance to use Desdemona's dropped handkerchief as (highly circumstantial) 'ocular proof' of her guilt, he is able to convince Othello by the simple expedient of telling him a direct lie about hearing Cassio talk in his sleep. Perhaps more remarkably, Shakespeare suggests that Othello is already convinced of Desdemona's guilt even by the time he demands 'ocular proof'. Immediately before he turns on Iago, he refers to Desdemona's 'stol'n hours of lust' as a fact*, and in a soliloquy after Iago's first insinuations his attempt to reason the situation through concludes that Desdemona is 'gone' and he is 'abused'
OTHELLO
This fellow's of exceeding honesty
And knows all quantities, with a learnèd spirit,
Of human dealings. If I do prove her haggard,
Though that her jesses were my dear heartstrings,
I'd whistle her off and let her down the wind
To prey at fortune. Haply, for I am black
And have not those soft parts of conversation
That chamberers have, or for I am declined
Into the vale of years—yet that's not much—
She's gone, I am abused, and my relief
Must be to loathe her. Oh, curse of marriage
That we can call these delicate creatures ours
And not their appetites! (Act 3, Sc 3 263 – 275)
In this speech we can see how Othello's trust in 'this fellow' Iago's honesty and wisdom frames his subsequent thoughts on the idea that Desdemona might be unfaithful, and so he goes on to dwell not on reasons that she is true, but on reasons why she might be false – that he is black, lacks sophisticated conversation and is older than her. By  Act 4, when Othello finally sees Desdemona's handkerchief in Cassio's hand, the audience is fully convinced he will fall for the ruse; as Iago observes 'trifles light as air are to the jealous confirmations strong as proofs of Holy Writ'  and we know Othello has already decided she is guilty.
 If the cognitive biases on the stage are easy for us to observe, Shakespeare also plays with the cognitive biases of his audience.  Even though we are told in Act 1 by Iago himself that he only 'follows (Othello) to serve (his) turn upon him' because  Othello has overlooked Iago's loyalty in battle over many years, and even though every other character in the play is also taken in by Iago's 'honesty', much criticism over the years has been devoted to Othello's credulity and resulting jealousy as flaws that disqualify him entirely as a tragic hero.  None of Shakespeare's other major tragedies appear to provoke such debate.  While murdering your wife can't be seen as a heroic act, the same could be said of murdering your best friend, another man's wife and children, or a silly old man hiding behind a curtain; in this writer's reading at least, critics don't seem to have the same problems accepting  the fatally flawed hero as an integral element of the tragic genre in Macbeth and Hamlet.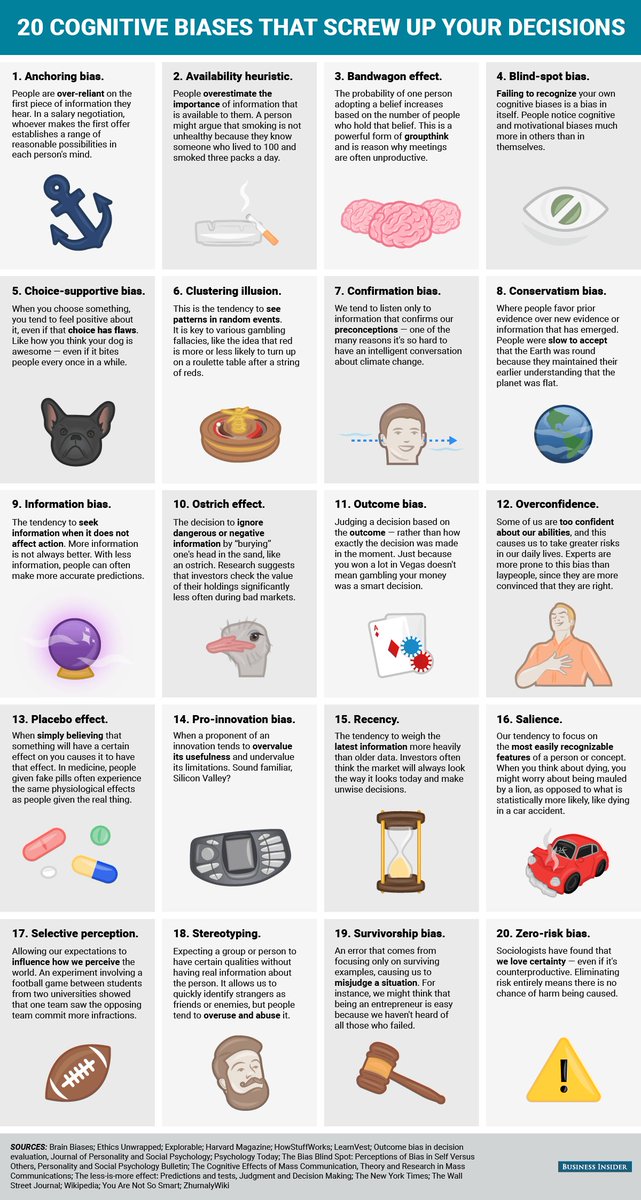 The idea that emotions influence reasoning has been around a lot longer than the latest research on cognitive biases, and Shakespeare's genius in depicting the way we tend to pursue conclusions that we are already pre-disposed to reach still resonates today as an idea we need to hold in awareness in our discourses on educational practice.  It is easy to see flaws in other people's reasoning, and it feels good in the face of our own frustrations about the debate to denounce those who don't know what we know as idiots or worse, but it doesn't move the conversation on.  It's not just people who think Pokemon Go is a useful academic innovation who need to
consider a wider body of evidence
; too much discourse on teaching and learning seems to ignore what (other) people actually feel, especially online, where outrage is never more than two tweets away.  So I was grateful last week to discover the chart on the left on
Tom Bennett's Twitter feed
 It's an excellent primer in Cognitive Biases, and if you want to discover more about your own biases,  you can test yourself on a fun website called
Clearerthinking.org
 which I discovered  via Jonathan Haidt's
'The Righteous Mind'
.
As educators we need to hold to the evidence, and we need to test it and make rational choices for ourselves and our students.  Anyone who is familiar with the play 
Othello
 also knows  that Shakespeare puts his words in praise of reason and its ability to 'cool our raging (e)motions… (and) …our unbitted lusts' (Act 1, sc 3) into the mouth of his most monstrous villain.  What makes Iago a monster is not his psychological insight, but the lack of empathy which allows him to use that insight against people who trust him. If we truly value reliable evidence and knowledge, we urgently need to re-frame the way we communicate  in the face of a global trend of
#alternativefacts
 to communicate not just rightness, but compassion.
Othello reference:*
What sense had I in her stol'n hours of lust?
    I saw 't not, thought it not, it harmed not me.
(Othello Act 3, scene 3, lines 348 – 349)
Further reading on Social Emotional Learning:
Harvard Graduate School Making Caring Common project
Further information on moral reasoning and empathy:
Jonathan Haidt's academic homepage NYU